How to make a wooden spoon
From:
Sunday 01 November 2020
To:
Sunday 01 November 2020
Time:

8:00am

-

03:30pm

Sunday 01 November 2020
Location:
Broadfoot Street, Kearneys Spring, Broadfoot Street, Kearneys Spring, Queensland 4350 Australia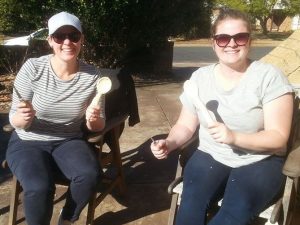 Learn how to carve your own wooden spoon using traditional techniques and your own hands by attending this small group one day workshop led by your tutor, Matt Eliason (AKA Spoonguy) who has over 3,500 hours experience in spoon carving.
The workshop covers:
Types of wood
Sourcing wood and things to consider
How to get the best spoon from wood
Concepts of spoon design
Demonstration of axe work (Hands on yourself at the end of the day, time permitting)
Different safe grips, cutting stokes and other aspects while working on your own spoon
Dealing with issues of green wood carving while working the wood
Knives and knife sharpening
Finishing coatings
The day progresses at a gentle pace, with plenty of one-on-one attention that is only possible in a small group workshop environment.
We carve together, with tool work clearly demonstrated and students work followed to ensure safe and effective tool use.
We take a break for morning tea and afternoon tea (supplied) and lunch (bring your own).
At the end of the day you will have an eating spoon, or a cooking spoon or a serving spoon that is very close to completion for you to take home.
Tools available for purchase at the end of the day - $130 for the two knives so you can do final cuts and move on to new spoons. ($145 if left handed).
I also have optional purchase:
A 50mm bent knife (good for larger bowls - $60)
Workshops run from 8.30 - 3:30.
Current class sizes are limited to four to allow maximum interaction.
Spoonguy
Broadfoot Street, Kearneys Spring
Broadfoot Street
Kearneys Spring
Queensland
4350
Australia